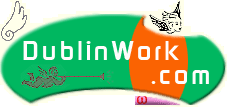 Erika ...
...
...
Dublin 9
Tel: 087 ... ....

Categories: Information Technology, Analyst, Designer
Personal Profile
---
Graduate in Computer Science with five years of experience in customer support services. Excellent problem-solving and interpersonal skills in software and hardware with strong customer focus. I enjoy personal interaction with end users. Over my last five years of experience on this, I have had the opportunity to support elder people and people with physical disabilities.
Work Experience
---
1996-2002
Pontifical Catholic University (PUCP), Lima, Peru.
IT Officer for the Department of Sciences
As an IT Officer, I had under my responsibility computers and peripherals to organize, to maintain and repair (as a team). Duties such as network administration in LINUX and Technical support were among other Student/Staff/Academic help-desk on computer-user problems. Support included purchase and management. I developed a database for new and existing equipment in the Department of Science.
1996-1997
Pontifical Catholic University (PUPC), Lima Peru.
Technical support
I had to deal with user-computer problems which allowed me to develop good interpersonal skills with strong customer focus and gain large experience in standard pc-user problems; such as PC hardware, peripherals and software.
Training & Education
---
Oct/02´ - Oct/03
FIT Part-time course in IT and Business,
Whitehall College of Further Education, Dublin, Ireland
2002´ - 2004
English and Computer Classes
Dublin Learning English, Dublin, Ireland
1999
UNIX Network Administration
INFOPUC, Lima-Peru
1994-1996
Technician in Computer Science (equivalent to an Institute of Technology Certificate - Ireland). It includes System Analyst Technical Certificate, System Analyst Certificate and Programmer Certificate.
Superior Institute of Sciences and High Technology - CIBERTEC, Lima´ - Peru

1998
Graphic Design (PhotoShop, Page Maker and Corel Draw)
INFOPUC, Lima-Peru

Nov/98
UNIX Operative System, INFOPUC, Lima-Peru
1997
Access V.7, INFOPUC, Lima-Peru
Sep/97
Basic Electronics, PUCP, Lima-Peru
July/97
Writing and Grammar in Spanish, PUCP, Lima-Peru
July/97
Preparation of Petty Cash, PUCP, Lima-Peru
Mar-Apr/97
XIX Basic Course of Archives, National Archives School, Lima-Peru
1996
AutoCad V.13, INFOPUC, Lima-Peru
1988-1993
Madre AngÚlica Recharte, Secondary School, Lima´ - Peru
Conferences
---
2000
PUCP - I.T. Department, Lima-Peru
III International Conference of Telecommunication
EL IMPACTO DE LA COMUNICACI´ON EN LA GLOBALIZACION
1999
PUCP - I.T. Department, Lima-Peru
International Conference of Telecommunication
"LAS TELECOMUNICACIONES EN EL TERCER MILENIO"
Key Skills
---
Thorough understanding of different computer systems, hardware and software, Network Administration, excellent interpersonal skills, good-written and spoken English, fluent Spanish, proven problem-solving abilities.
Interests
---
Home Pc, Cookery and full´ - time childminder to own two children from 2002 onwards