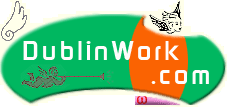 Pawel ...
...
...
Maynooth, co. Kildare
Tel: 085 ... ....
DoB: 12 May 1974

Nationality: Polish
Categories: Information Technology
Educational Details
---
2006
English in Dublin http://www.englishindublin.ie/index.php
Degree: Intermediate
2000 - 2004
Wroclaw/Poland University of Technology http://www.pwr.wroc.pl/en_main.xml
Faculty of Computer Science and Management http://www.wiz.pwr.wroc.pl/en/index.asp
University degree: Engineer degree in Software Engineering
Professional Experience
---
2000.07.01 - 2005.12.31
anixe Polska sp. z o.o. http://www.anixe.pl/BR> Position: Manager/Programmer
Duties: I was responsible for developing and caring user interfaces and translate layers between applications and building web services. I was responsible for assignning tasks to team members planning their jobs and help them if they have problem with task.
1999.03.08 - 2000.06.30
anixe Germany http://www.anixe.de/
Position: Webmaster/Programer
Duties: I was responsible for developing presentation layers for air system.
Knowledge
---
Programming Languages: ActionScript, ASP, Assembler (6502, 68K, 0x86), C++, C#, CSS, HTML, Java, Java Script, Jscript, JSP, Pascal, SQL, UML, XML/XSL/XSLT, XSL:FO, VBasic for application (Excel)
Databases: AccessDB, MS SQL server, MS SQL server 2005 EE, MySQL
Softwares: Adobe Image Ready, Adobe Photoshop, Flash MX, Reddot (CMS), Visual Studio 6.0 - 2005
Languages
---
English: Intermediate (learning in progress)
Polish: Native
Personal skills
---
I am good at finding resolves for given problems. I am good at teamwork. My additional qualities are: prioritise assigments, work under time preassure and without supervision.
Interest and hobbies
---
Old computers, sailing, music